Medicare Coverage of HIFU Treatment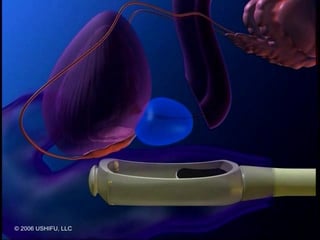 Does Medicare cover HIFU?
Written by Dr. Stephen Scionti
Director Scionti Prostate Center
Medical Director Vituro Health
I get this question all the time, so I will attempt to explain why I do not expect Medicare to cover HIFU (reimburse the facility) at the time of writing this blog post (July 5, 2017). Please note that this blog post represents my opinion after careful study of the Medicare rules governing C-codes and discussion with healthcare reimbursement specialists.
CMS recently announced the establishment of a new C-code for the ablation of prostate tissue using high intensity focused ultrasound (HIFU 

C-codes are unique temporary pricing codes established by CMS (Center for Medicare and Medicaid Services) that apply only to the hospital outpatient facility and the ambulatory surgery center (ASC) settings. The C-code does not apply to the office based outpatient surgery center or to physician services. Please note that there are NO codes for payment of the HIFU doctor's fees or of the Anesthesia doctor's fees.
HIFU has been assigned HCPCS C-Code C9747, Ablation of prostate, transrectal, high intensity focused ultrasound (HIFU), including imaging guidance 
C9747 became effective July 1, 2017. 

Although, there is now a code and a payment has been determined, there is no coverage (reimbursement) as of July 5, 2017. How can this be?
CMS assigned a code (C9747) and a payment (APC 5376, Level 6 Urology and Related Services, national average payment of $7,452.66) to that code.
However, having a code does NOT mean that Medicare will actually pay a facility for a HIFU procedure. Coverage is determined by the individual CMS Medicare Administrative Contractors (MACs). Please note that Medicare did NOT issue a national coverage determination (NCD) and that no Local MACs have issued a local coverage decision (LCD).
The U.S. is divided into twelve (12) regions for the purposes of administering Medicare claims, including coverage decisions. These MACs are private health care insurers that have been awarded a geographic jurisdiction to process Medicare Part A and Part B medical claims for Medicare Fee-For-Service (FFS) beneficiaries.
In the absence of a national Medicare policy, each MAC decides individually, according to their own criteria, whether to cover a procedure and, if so, under what circumstances. It is possible that different MACs will issue different local coverage determinations (LCD) or that CMS will issue a national coverage determination (NCD) in the future.
Map of MAC coverage regions on the US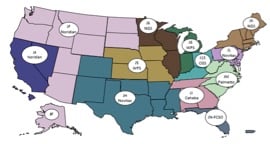 It is my opinion, that the MACs will NOT issue local coverage decisions at this time. Typically, local coverage decisions are only issued after the publication of 3 scientific studies in peer reviewed medical journals. Although HIFU has been well studied in Europe and Asia and there are numerous published studies outside of the US that document it's effectiveness, my opinion is that coverage determinations will be issued ONLY after the publication of results from US HIFU centers. A medical journal will usually require a few years of follow up in order to deem a study worthy of publication. Since the first HIFU procedures were done in the USA in December 2015, it is still too soon for studies to be submitted to medical journals and for them t be published. I think we are 2 – 3 years away from this at best.
So, what does this really mean?
Medicare patients should NOT expect Medicare to reimburse their HIFU procedure at this point in time. This may change as local MACs issue local coverage determinations in the future. Medicare patients will be required to sign an Advanced Beneficiary Notice (ABN). This document informs Medicare beneficiaries that reimbursemsnt is not expected for HIFU treatment.
Dr. Stephen Scionti, director of the Scionti Prostate Center and Medical Director of Vituro Health performs all of his HIFU procedures at the Vituro Health Sarasota HIFU Center of Excellence located at Sarasota Interventional Radiology Center. The new C- Code does NOT apply to this treatment facility. This facility has performed more HIFU procedures than any other US facility and has a dedicated on-site full time engineering team. Dr. Scionti personally performs 100% of all HIFU procedures and never allows interns, residents, or trainees to treat his patients.
If the MAC that covers Florida (First Coast Servicing Organization) were to ever issue a local coverage determination (LCD) which would lead to reimbursement, then The Scionti Prostate Center will work to assist our patients in obtaining reimbursement.