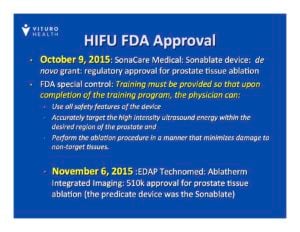 HIFU training was mandated by the FDA when HIFU was approved on October 9, 2015.
Dr. Stephen Scionti, Director of the Scionti Prostate Center and Medical Director of Vituro Health lectured on HIFU training and techniques for prostate cancer HIFU treatment at the NYU Post Graduate School of Medicine Course: Advances in Prostate Imaging and Ablative Treatment of Prostate Cancer Friday - Saturday, June 17-18, 2016.
On Jun June 23-25, Dr. Scionti presented the first results from HIFU treatments performed in the United States at Duke University at the: 9th International Symposium on Focal Therapy and Imaging in Prostate and Kidney Cancer.
The principles and techniques required for the safe and effective performance of a HIFU procedure were reviewed with the attendees. The results from the initial patients treated in Sarasota were presented in which the Leak free, Pad Free rate was 100% in the first 80 procedures.
The FDA was highly concerned that HIFU would be adopted by urologists with little or no previous experience with prostate HIFU and attached specific conditions to the approval and mandated significant physician training for both the Sonablate and the Ablatherm devices.
Dr. Scionti expressed concern that HIFU machines are being introduced in many US cities including (but not limited to): Orlando, New York, Boston, Los Angeles, and Miami without training resources and that urologists with minimal to no experience are offering this highly complex treatment to their patients. HIFU experts from around the world, at the these conferences, agreed that physician to physician proctoring, extensive HIFU training and HIFU case experience were essential to effective and safe HIFU treatment. The training program required of all Vituro Health HIFU urologists was presented to the audience as a model of what a comprehensive HIFU training program should include.
Patients are strongly advised to question any urologist offering HIFU treatment about the training that they have received and their level of experience. Until HIFU becomes more widespread, Dr. Scionti strongly encourages patients to seek out only highly experienced physicians for this procedure,
Dr. Stephen Scionti, Medical Director of Vituro Health Instructs HIFU trainees on the safe and effective performance of a HIFU treatment at The Vituro Health national Training Center in Sarasota, Florida.